Sarah Romoslawski
Mixed Methods UX Research and Leadership
Virta Patient Health Journeys
Building a cross-disciplinary empathy practice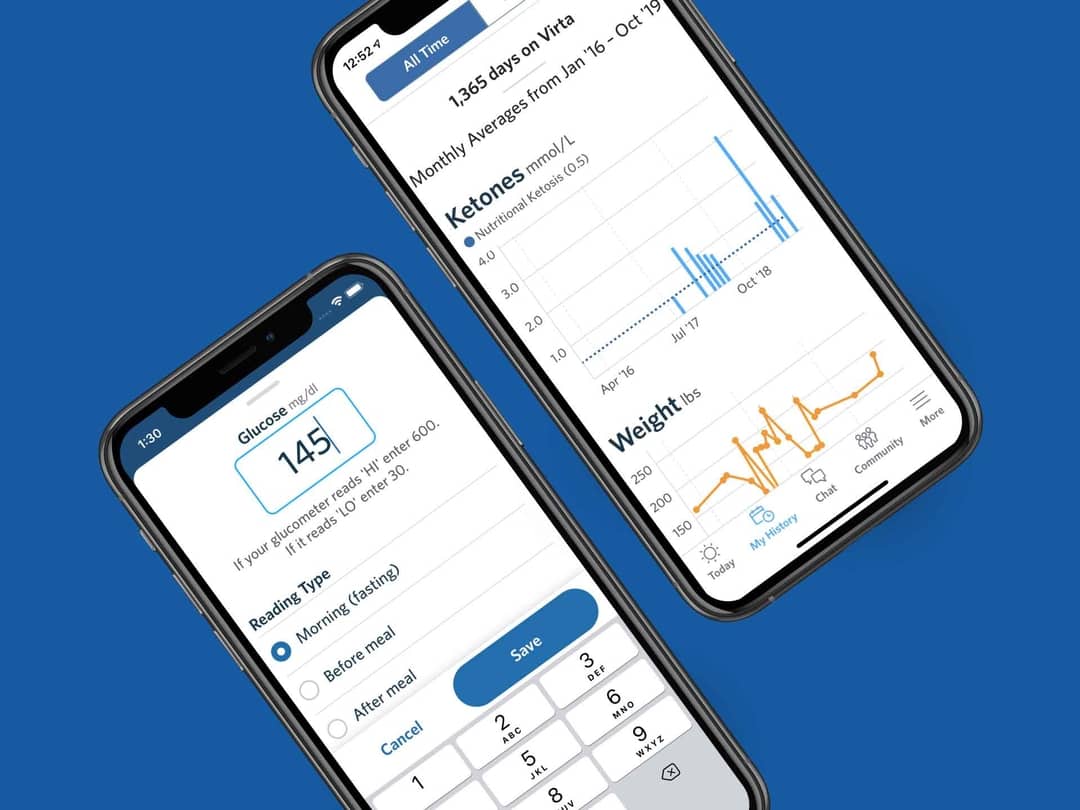 What is Virta?
Virta allows patients with Type 2 Diabetes to reverse their chronic illness through dietary changes, health coaching, and continuous remote care.
User Listening Fortnightly
User Listening Fortnightly
When I first started at Virta I was asked to take over a meeting that had an unclear focus.
Feedback channels:
sustainability survey

mobile app satisfaction survey

rolling NPS

ad hoc NPS

health coach satisfaction
Focus of meeting:
customer service meeting

create call assignments for negative feedback coming in through the above channels
Cross-Disciplinary Involvement
Product Managers

VP Product

VP Operations

VP UX

Operations Manager (Manager of all the Coach Managers)

Data Science

Designers on the patient side

Lead Coach
Saw an opportunity to build cognitive empathy:
Rather than call patients and start solutioning with them, I suggested we conduct 45-minute listening call following Practical Empathy methodologies

The meeting could turn into a place for us to share what we hear and capture patterns along the way
To build cognitive empathy we must uncover the following:
inner reasoning

reactions

guiding principles

philosophies

common ability blockers

past experiences and how those shape their current values

the inner thoughts of someone trying to adhere to something antithetical to what we have learned as healthy all our lives
Goals:
conduct the listening work

share individual stories across the company

create thinking style segments

form a mental model diagram and an opportunity map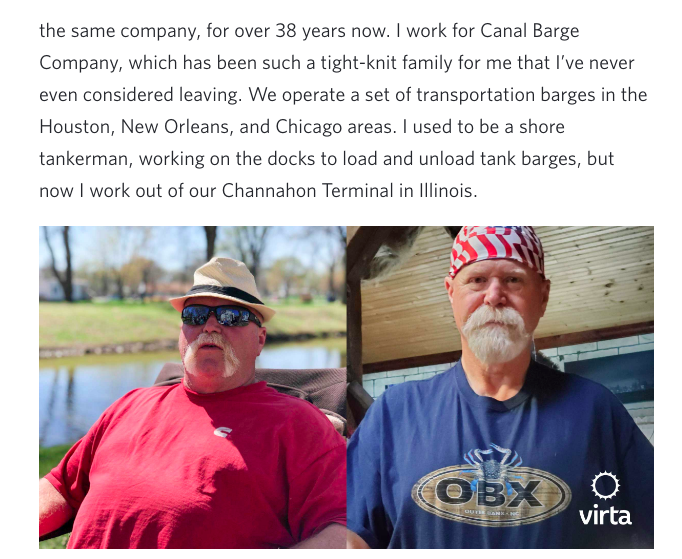 A Note On Problem Space Work
The Jobs to be Done Playbook (Jim Kalbach)
Practical Empathy (Indi Young)

Virta patients came from many different backgrounds. Most were offered Virta as an employee benefit. We were lucky to be able to recruit many different people:
Barge operators

Truck drivers

Casino workers

Tribal nations

Tech workers

Retirees

Veterans

Direct patients - the only patients paying out of pocket

1. VHA

2. Direct Patients

3. Patients that Did Not Apply
Veterans Health Administration
Our goal was to understand the needs of Veterans that had stopped logging biomarkers and/or delayed dietary change start date. While this behavior was seen across the patient base, this group over-indexed on these two issues.
What has been going through your mind since you signed up for the Virta treatment?
What has been going through your mind since you stopped logging?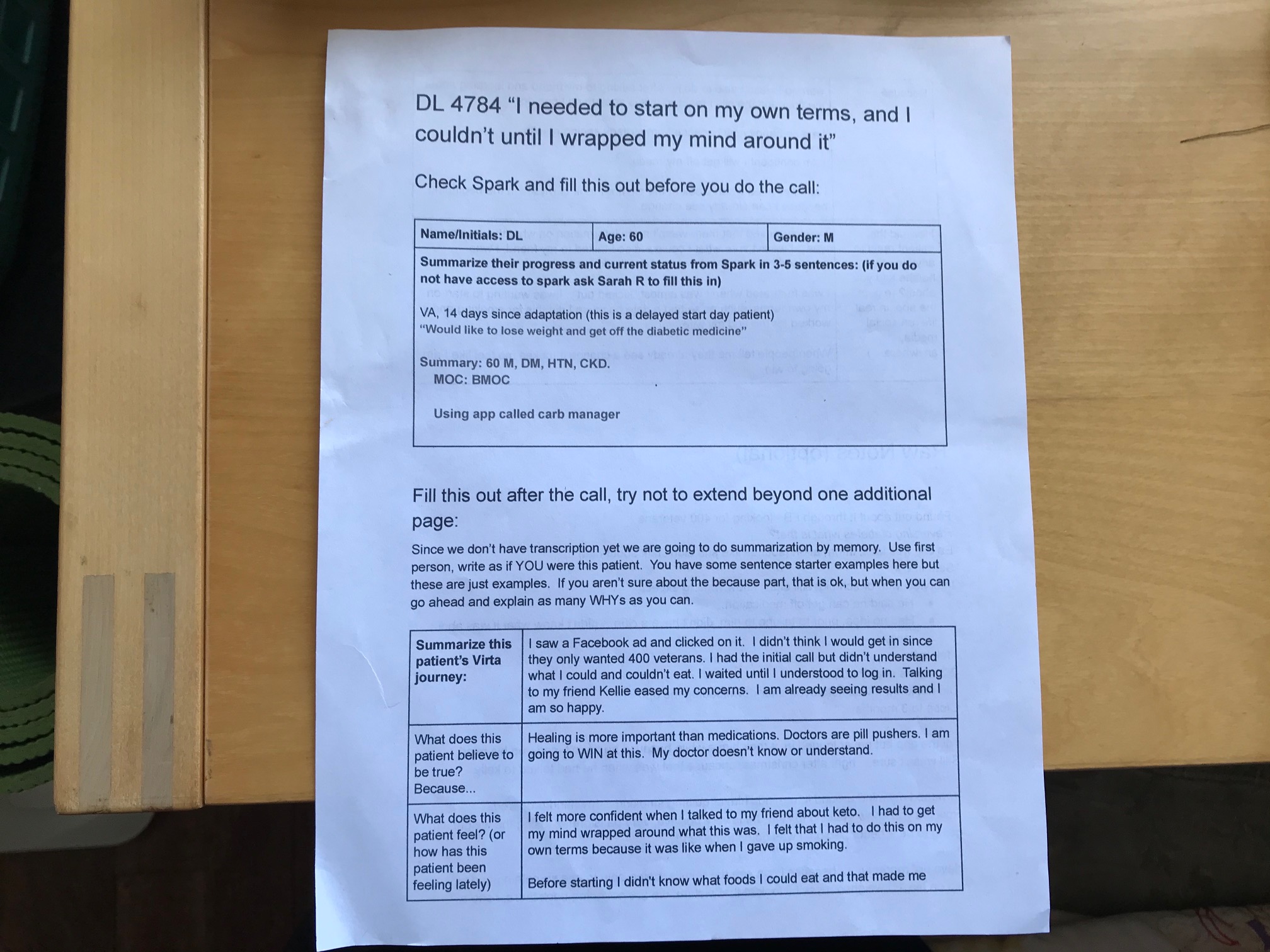 Templates and Training for Listening Calls So All Disciplines Can Get Involved
Templates created for email contact, calendar updates, script

Note-taking template helped team members capture thoughts at end of the session

Reflect on calls after completed to share patterns and improve listening practice

Findings from VA Patients
Inner Reasoning
Needed help from friend in order to wrap my mind around it before setting a start date
Reaction
Feel frustrated due to lack of clarity on the treatment
Guiding Principle
Always get second opinions (e.g. from family, friends or VA community)
Impact:
Gained support across the organization for VHA patient community group
Improved enrollment advisor communication and messaging when communicating with VA patients
Direct Patients
Direct patients are both customers and patients. They are the buyer and the user. They are our hardest customers and our largest potential for revenue. - VP Operations
Goals
Direct patients pay out of pocket ($250)

Health Coaches wanted to better understand how to serve their toughest patients
Team
Inaugural Health Journeys Monthly
Each team member shared on 1-2 patients including verbatim audio clips

No health coach conducted listening sessions with their own patients

This was the first "patient voice" that was not entirely focused on positivity and life changes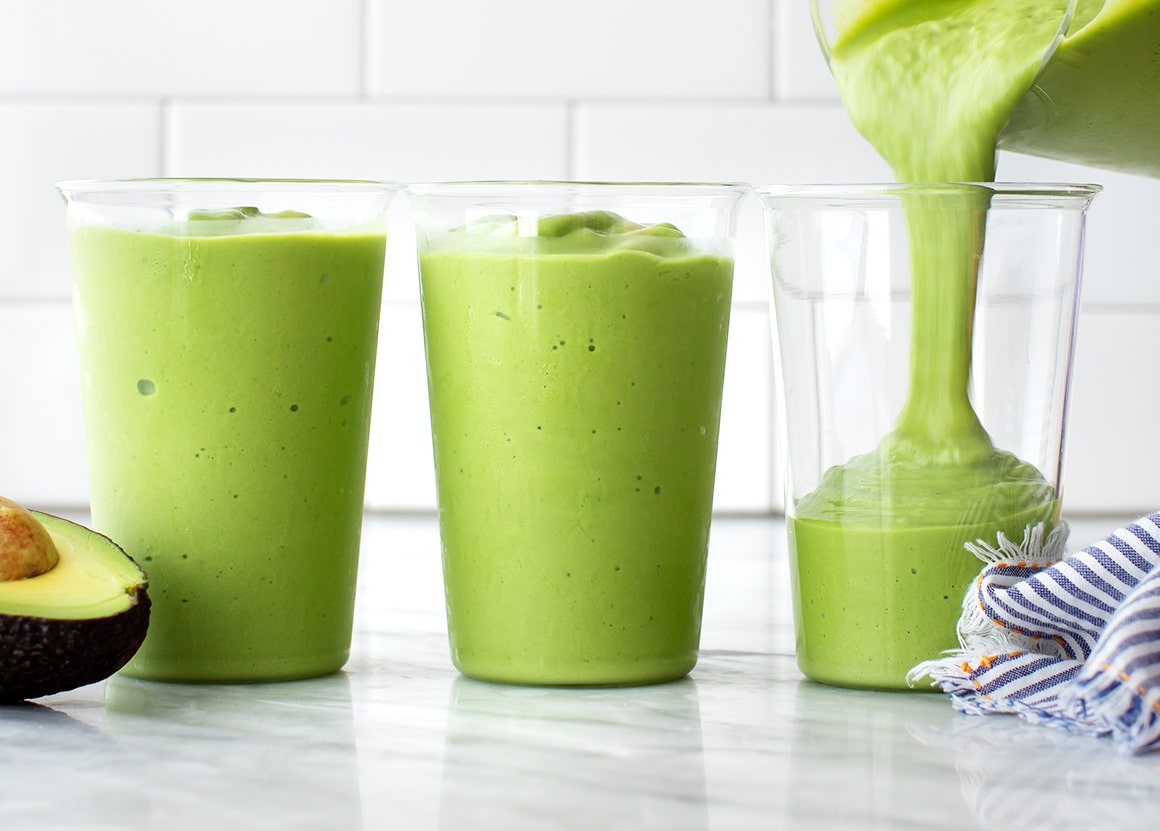 We Brought Insights Beyond Outcomes
Inner Reasoning
Thinking that the food available to me to eat was not appetizing at all
Knowing that I can't stick with it unless I have someone cheering me on
Reactions
Felt frustrated when my provider told me to change to a different medication level without explaining why
Felt annoyed when I had to wait 24 hours for a response
Guiding Principle
Organic first
Be a daredevil
Impact
Do better to build trust by learning how to capture those moments asynchronously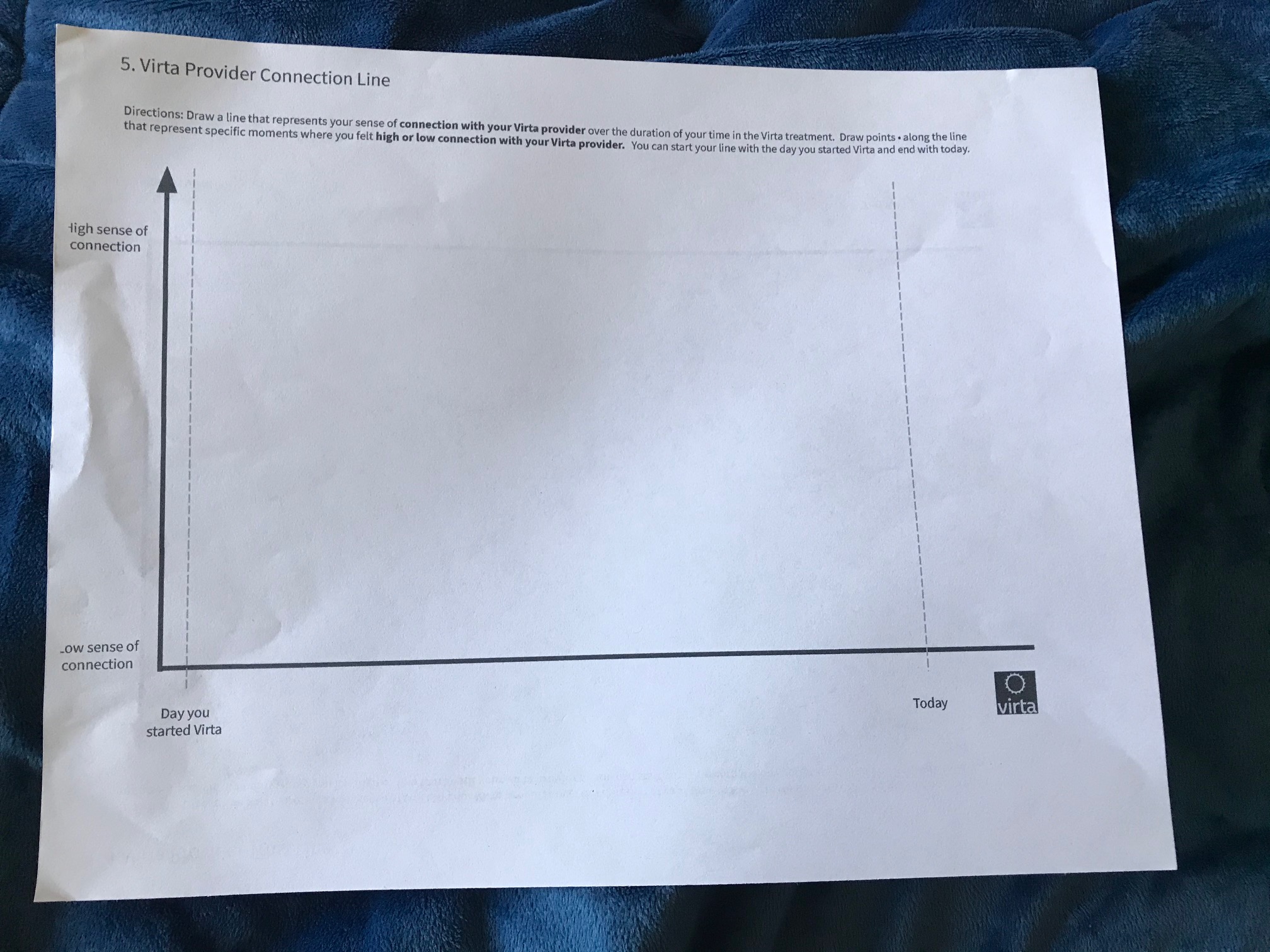 Painting a View of Trust
Wanting to know more about how trust is built over time, we kicked off a learning plan for understanding the patient and provider trust relationships.
We included:
Direct patients

T2D on medication

T2D no medication
Looking Beyond the Current Patient
The next Health Journeys Monthly focus was planned for understanding those who never applied. Despite having access to Virta for free, they did not enroll.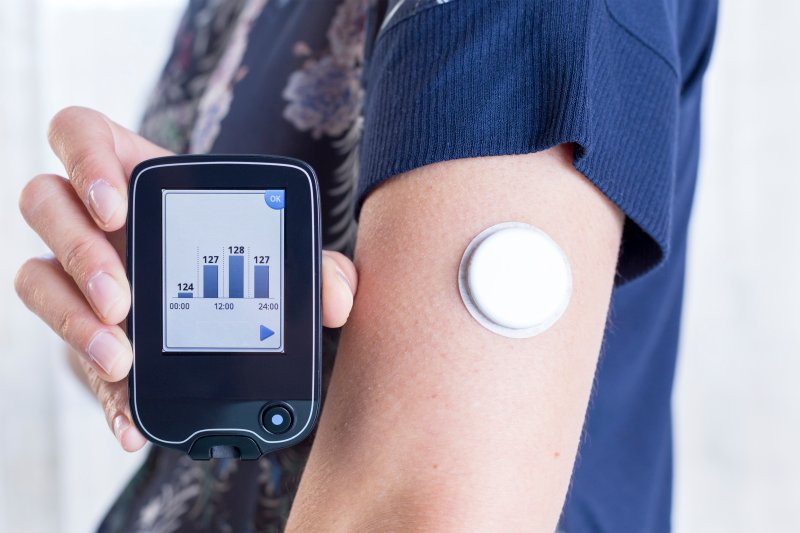 Uncovering Finger Pricking Fears During Enrollment
Discussion with the EA:
What happens when someone has a fear of finger pricking?

How do you end up finding out?

What do you do?

Do you ask why?

Did you know some of our patients are using CGMs anyway and they love it?
Impact on service touchpoint: Adjust to putting a positive spin on CGMs, ask about reasons for fears on enrollment call to address anything that may not be true
1
Health Journeys Monthly
Future Listening Work in the Health and Wellness Space
What went through your mind...
...the last time you tried to get help for chronic pain?
...the last time you tried to change a behavior?
...the last time you considered a medical option to treat a health condition?
... the last time you considered a new health benefit for your employees?