Sarah Romoslawski
Mixed Methods UX Research and Leadership
Patient Expectations for Health Assessments
Research process for concept testing new features in a telemedicine application
Virta is a digital therapeutic for reversal of Type 2 Diabetes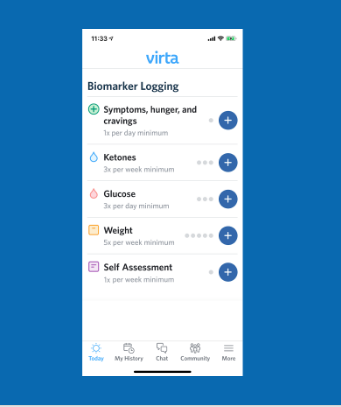 About Virta
dietary change (low carb, keto)

lifestyle change

health coach

health care provider (MD, NP)

log biomarkers daily (weight, blood glucose, ketones)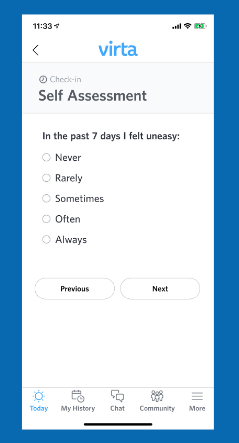 Ask: How can we incorporate whole-person health assessments that encourage patients to engage?
Goal: Capture user data and in turn provided a feedback loop to the patient. Create both short term value (setting and achieving small goals) and long term value (personalized treatment towards reversal).
Research Design and Proposal
Gathering Hypotheses with a Multifunctional Team
a psychologist with expertise in behavioral health

product designer

product manager

2 health coaches

software developer

user researcher (myself)
Questions we had:
What goes through a patient's mind if the app asks them to give further data?
How do we establish trust when collecting data?
What feelings or emotions do these assessments bring up?
Do these types of assessments cause introspection?
How can we roll out the question content so that patients are more likely to engage?
Would patients want to work with their coach on these topics? In what ways would they expect to do so?
Does time in treatment impact all of the above? If so, how do we design for newer patients vs. patients further along?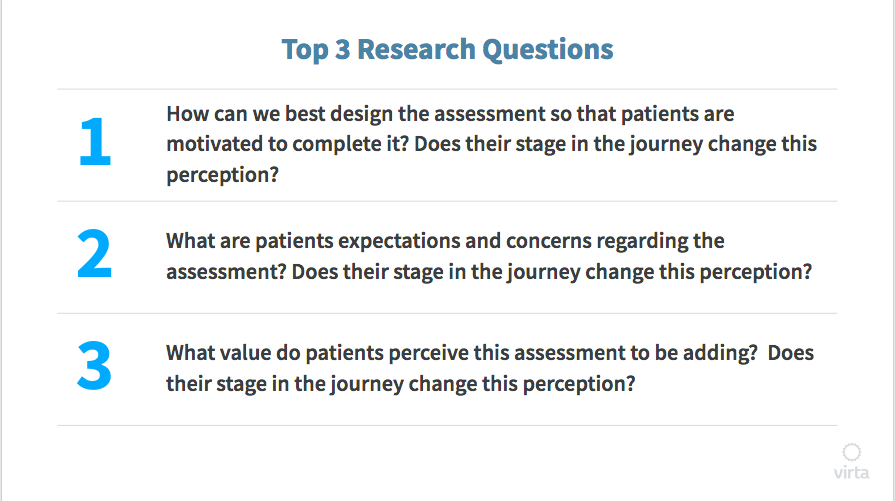 Finding Alignment
Research Questions

Business goals

User cohorts and their particular needs (if we know them)

Assumptions and Hypotheses

Screenshots of adjacent products, competitor products, or other inspiration if applicable

Methodology recommended

Number of participants

Budget

Timeline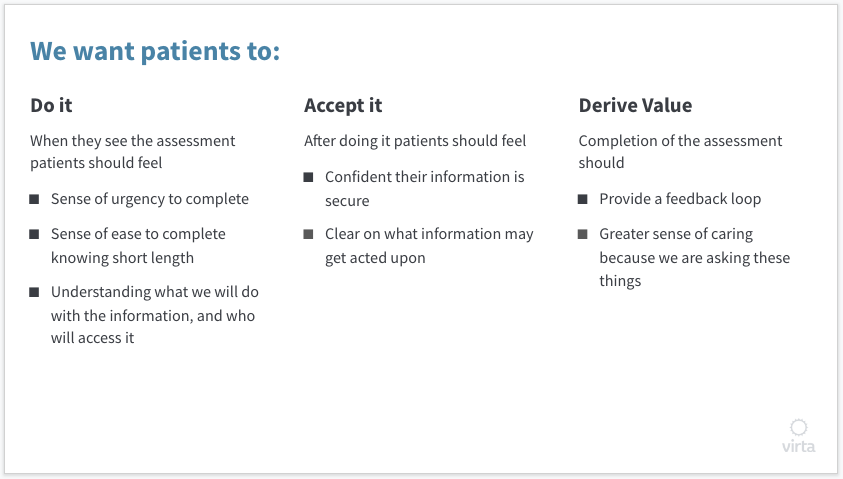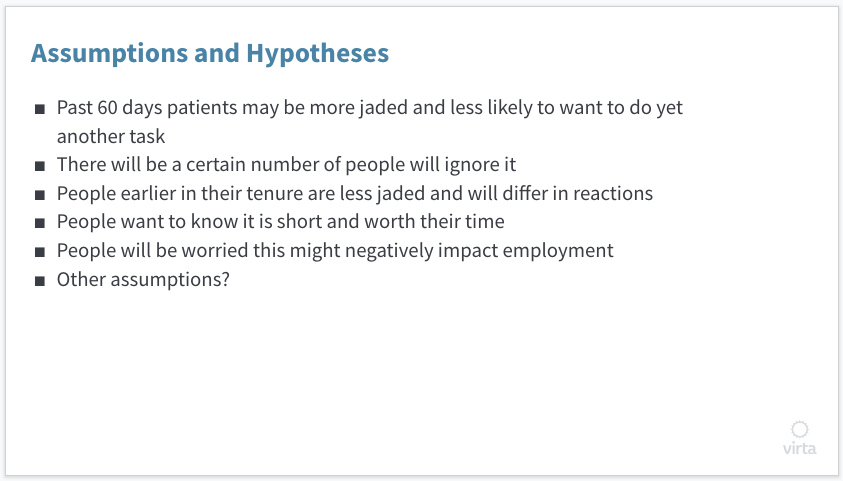 Creating Script and Stimuli for a Remote, Moderated Concept Test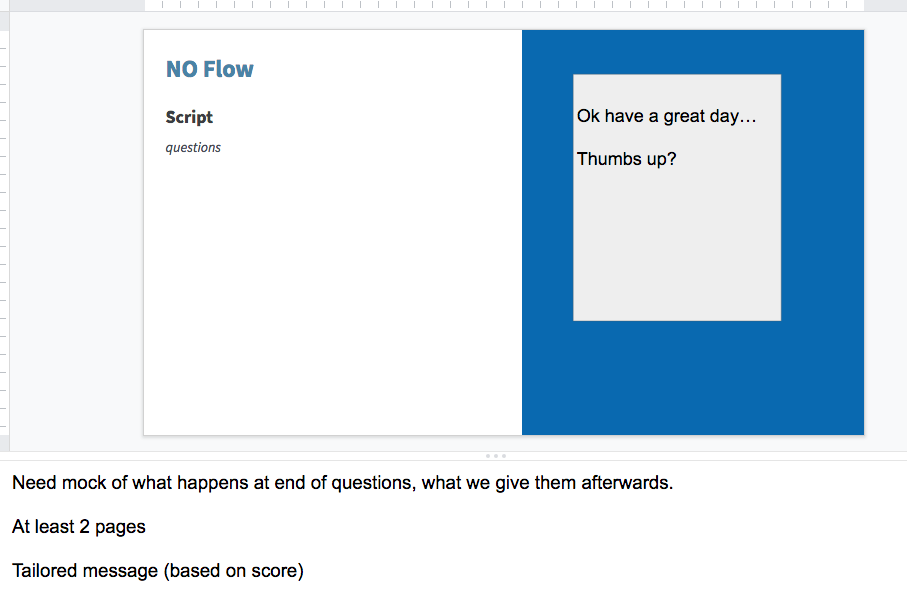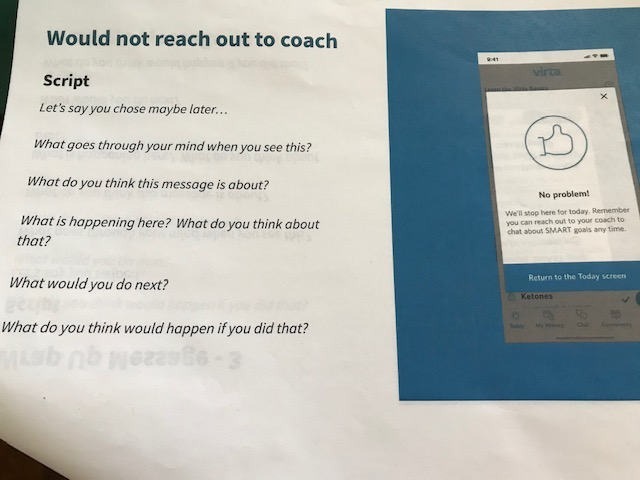 Creating the Script
We iterated on the script in tandem with the designer, who created just enough stimuli to bring the study to life


Collaborating with the psychologist on the project, we worked screen by screen with the knowledge of what content would be in place


We avoided waiting for a perfectly polished set of mockups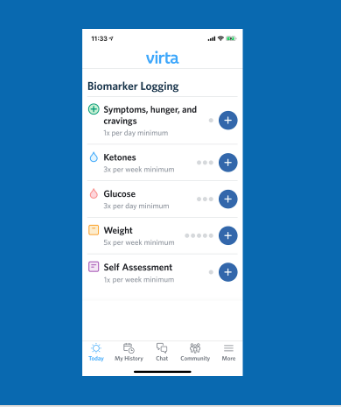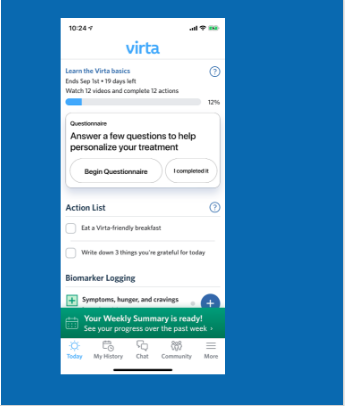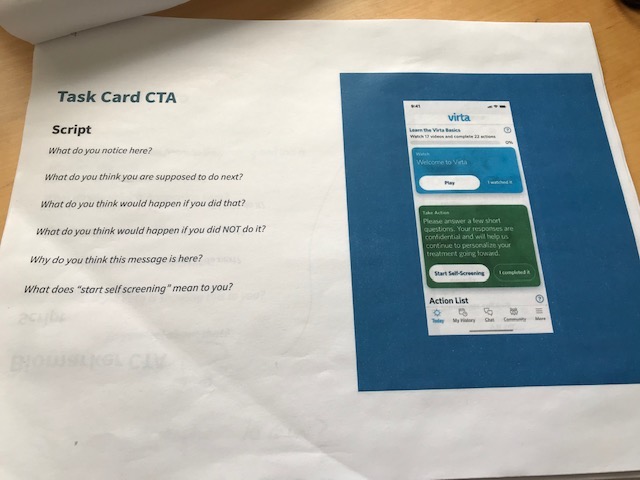 Goal: Uncover Where Feature Lives and How Patients Might Take Action
"Where would you go to find this?"
"Where would you go later to find if you had not completed it yet?"
"Does this meet your expectations?"
Solution: Create two versions of the script
Conducting the Remote, Moderated Concept Test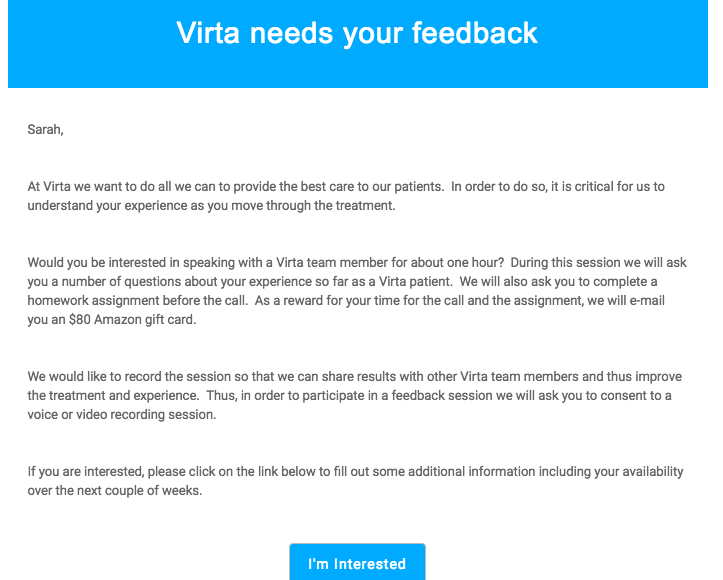 Recruiting for the Study
We sent the survey out to two groups:
Patients who were early in the treatment

Patients who were past 90 days into the treatment

The recruitment survey asked about the following:
Interest in participation after reviewing the details

Satisfaction with the Virta treatment

Availabilities

Access to the internet and the ability to view a shared screen

Willingness to sign a consent to record legal form
9
90 Days or more
in treatment
9
30 Days or less
in treatment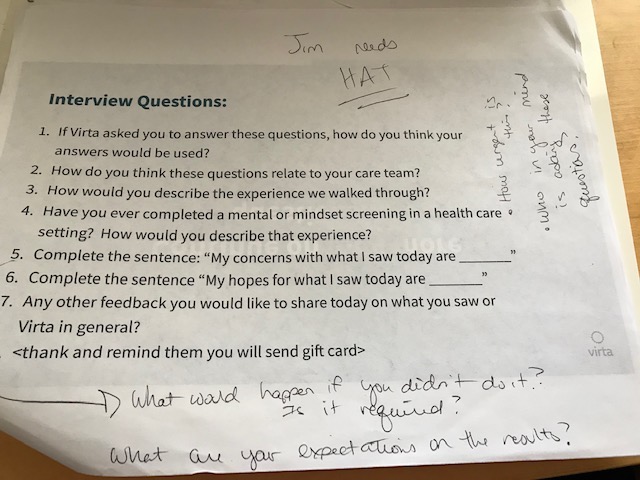 Pilot Study
Virta Ambassador

Assess timing

Find gaps in questions

Make changes to script, timing, follow up questions, etc...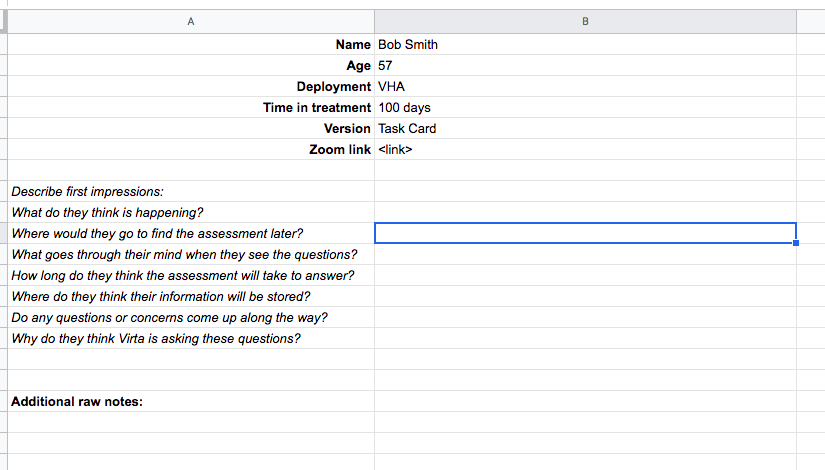 Interview Observation and Note Taking
Open doors to involvement

Provide note taking template

Use separate phone booths

Introduce everyone on the call to the participant so he or she knows who is on the line (Consent is given prior to the study in a legal form)

VP Product, engineers, health coaches, enrollment, marketing, design, facilities

Expedite analysis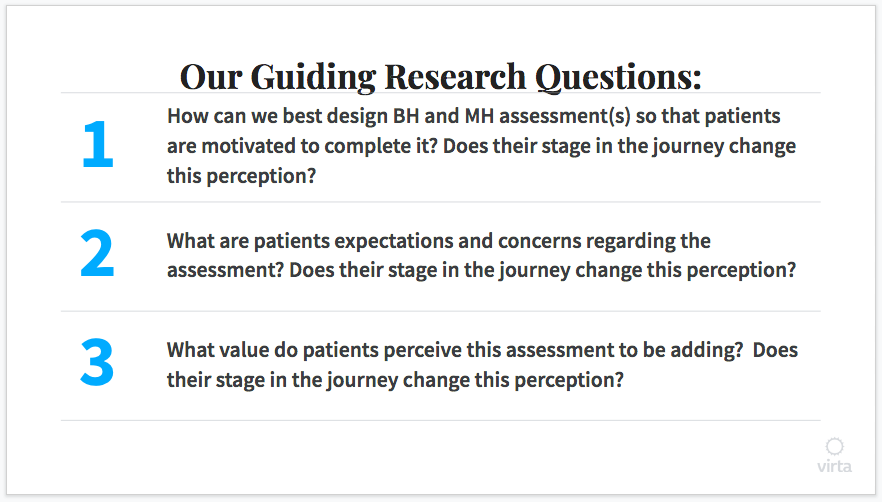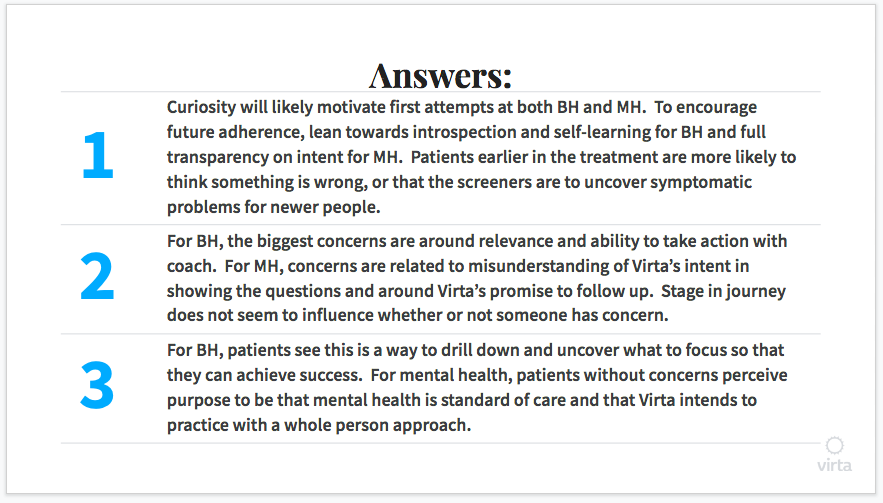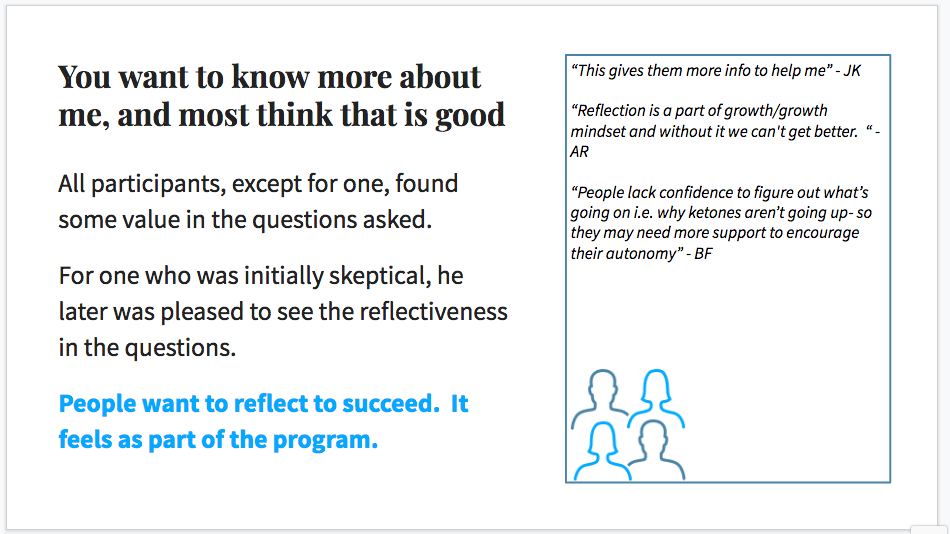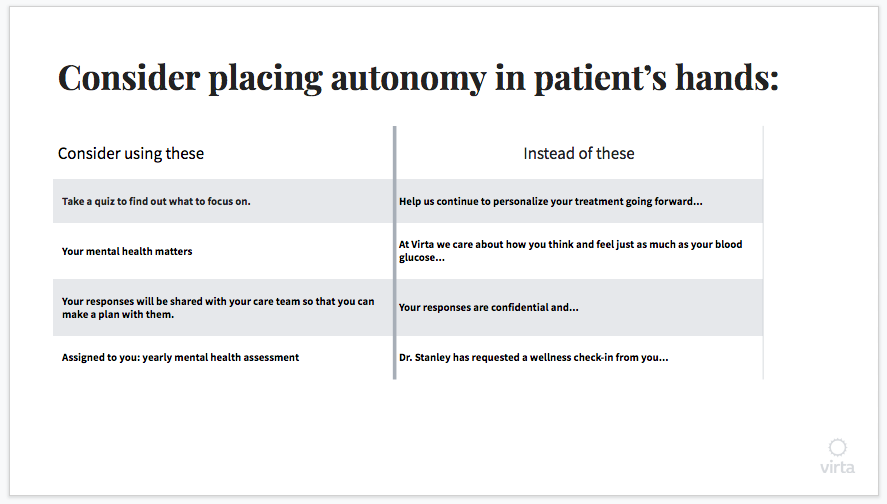 Findings and Recommendations
Virta is still iterating on this work and thus any detailed findings are still confidential. On a high level, we learned the following:
Assumption invalidated! People want to work on their behavioral health and while doing so they want to feel a sense of autonomy

Without enough transparency on what happens behind the scenes after the assessment, patients will not feel agency in their actions

Patients expect their coach and provider to be proactive in setting goals with them

The assessments can be messaged and labeled in a more light-hearted and introspective way

Introspection seems to be important to patients so that they can take action on their progress